Skip to product information
Baby Bum Balm - Cadle Cap Balm - 100% Organic - 100ml
$20.00
For many babies, the most common skincare product used on them is a nappy cream. Melvory Skincare's Baby Bum Balm uses 100% natural nourishing Organic Ingredients to soothe the delicate skin in the nappy area, keeping baby's bottom soft and protected from redness.

How to use: Apply onto baby's bottom after every nappy change.
This balm is also effective for cradle cap. Apply a small amount onto baby's scalp 1-2 hours before bath time. The balm softens the scales and can be removed gently in the bath using a wet wash cloth.
HERO INGREDIENTS:
Jojoba Oil
Jojoba oil contains protein, minerals and a waxy substance that mimics collagen, is not greasy and absorbs easily into the skin. It also contains vitamin A, D and E which are great for skin.

Sunflower oil
Sun flower oil helps maintain the skin barrier and decrease trans-epidermal water loss. It is rich in vitamin A & E and is hypoallergenic.
Cocoa Butter
The occlusive nature of cocoa butter reduces the amount of water loss from our skin and protects it from harsh and drying elements.
Shea Butter
Often used to remedy dry skin and to help protect the skin's natural oils. With long term use, many people report skin softening and strengthening as well as wrinkle reduction.
Coconut Oil
A rich emollient that keeps skin smooth and protect it against cracking from dryness.
FAQS
 1. What is the shelf life of this product?
Approx 20 months.
2. Does this contain essential oils?
No, it doesn't. Hence it can also be used as an overall moisturiser for newborns and also for people sensitive to essential oils.
3. I'd like to use a natural balm to keep my baby's skin hdrated. Can I use this?
Absolutely! It is a soft and smooth gentle balm that works very well as a moisturiser. All you'll need to do is rub some onto baby's skin after bath time to keep his skin well hydated.
4. Can this balm be safely used with cloth nappies?
Yes! We use cloth nappies in our home too. And this balm is every cloth nappy's best friend and will not ruin it.
Domestic postage (Australia)
Orders under $95:
We happily subsidise shipping for our customers by offering a AU$8.30 flat rate on standard shipping Australia-wide.
If you need Express postage, the option is available for $4.00 Express Post upgrade.
Orders over $95:
We offer FREE standard shipping on domestic orders over AU$95. The discount is automatically applied at checkout.
$8.50 Express Post upgrade
"Rush My Order" option:
For or an extra $10: skip the queue and get first in the line. Your order will be prepped up as a priority and sent to you on the very next working day by Express.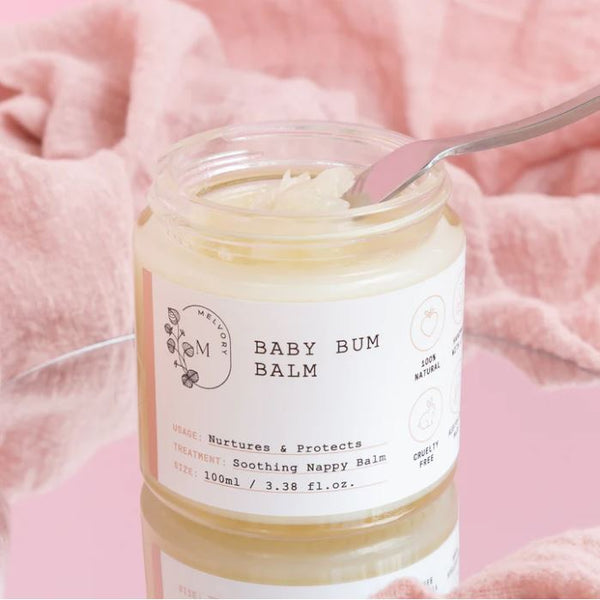 Baby Bum Balm - Cadle Cap Balm - 100% Organic - 100ml
$20.00