Skip to product information
Chamomille Sleep Balm - For Newborns, Children and Adults - 100% Organic - 50ml
$22.00
A  little jar of sweet dreams... This sleep balm contains a unique blend of calming and soothing oils, the perfect aromatherapy to gently ease you into a relaxed state so that falling asleep can come naturally. Nightly massages with a lot of skin-to-skin contact will help create a calm atmosphere for both parent and child.

How to use:

For babies under 6 months: Apply to the soles of the feet for a gentler effect. This balm can be used from 1 month old onwards.
For babies 6 months and above: Rub a small amount onto your palms and then apply using long, slow strokes onto baby's back, down the legs and soles of the feet. For extra tummy comfort, rub in clockwise motion on baby's belly.
For adults: To help ease tension away, apply to pulse points on wrists, shoulders and feet before bedtime.
Texture: Smooth silky balm that melts on contact with skin
Smells like: Chamomile & Sandalwood
HERO INGREDIENTS:
Chamomile
With its soft and soothing scent, Chamomile eliminates irritability and worries of the day; and helps bring calmness to ease you and your baby into deep sleep.
Sandalwood
Has a beautiful exotic, woody and calming scent that helps promote relaxation. 
Magnesium
Magnesium plays an important role in supporting deep and restorative sleep by helping your body to relax.
Lavender
Used for centuries for its well known calming benefits, the soothing scent of Lavender also helps to reduce stress and to promote better sleep for adults and children.
Ginger
Ginger is used traditionally in many Asian countries as a "warm" ingredient that helps to alleviate discomfort.

FAQS
1. My aging mother has difficulty sleeping. Will this work for her?
We've receive some really wonderful feedback from loving sons and daughters who have purchased this sleep balm for their parents. The soothing scent and the ingredients in this balm all work together to help you relax and ease off the tension before sleep. 
2. What is the shelf life of this sleep balm?
Approx. 1.5 years.
3. What other benefits are there?
We've had amazing feedback from parents. One big highlight is the lovely smell of this balm. It helps parents to view bedtime routine as enjoyable (instead of anxiety causing), where they can look forward to giving their little baby a nice massage. Skin to skin contact boosts parent-child bonding and has a positive effect on baby's sleep. When baby sleeps well, mummy and daddy sleep well. Overall, better quality of sleep promotes a happier atmosphere at home. 
Sleep is precious; without it we can cannot function well during the day nor enjoy the simple pleasures of being with our baby. Try our sleep balm today for more rest and sweeter dreams.
Domestic postage (Australia)
Orders under $95:
We happily subsidise shipping for our customers by offering a AU$8.30 flat rate on standard shipping Australia-wide.
If you need Express postage, the option is available for $4.00 Express Post upgrade.
Orders over $95:
We offer FREE standard shipping on domestic orders over AU$95. The discount is automatically applied at checkout.
$8.50 Express Post upgrade
"Rush My Order" option:
For or an extra $10: skip the queue and get first in the line. Your order will be prepped up as a priority and sent to you on the very next working day by Express.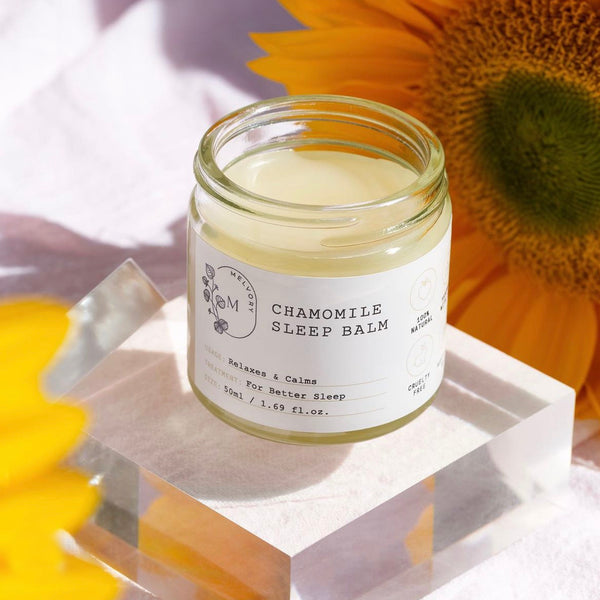 Chamomille Sleep Balm - For Newborns, Children and Adults - 100% Organic - 50ml
$22.00