Skip to product information
Silicone Leaf Baby Teethers - BPA free
$19.00
Super cute and trendy, our baby silicone leaf teether is the perfect tool to help soothe your little one's teething pain. Made from 100% food-grade silicone, it is soft and gentle on your baby's sensitive gums. The unique leaf-shaped design is not only cute but also functional, providing a textured surface that massages your baby's gums for maximum relief. You can also store it in the fridge or freezer for more effectiveness!
The leaf teether is designed to be easy for your baby to grip, helping them to develop their fine motor skills and hand-eye coordination. It is small, lightweight and easy to hold, making it perfect for tiny hands.
Our silicone leaf teether is BPA-free, phthalate-free, and free from other harmful chemicals, ensuring that it is safe for your baby to use. It is also easy to clean and can be sterilised, making it a convenient option for busy parents.
The teether comes in a variety of fun and vibrant colours, allowing you to choose one that best suits your baby's personality. It is the perfect size for on-the-go use, fitting easily in your nappy bag or hand bag.
Size: 6.7cm x 7cm

Care instructions: Wash with warm soapy water before use and as often as needed. Avoid dishwasher.
Disclaimer: Our baby silicone leaf teether is designed to provide a safe and effective way to soothe your baby's teething pain. However, it is important to note that it should always be used under adult supervision. As with all baby products, accidents can happen, and it is crucial that you never leave your baby unattended while using the teether. Always inspect the teether before each use to ensure that it is in good condition and not damaged in any way. If you notice any signs of wear or tear, please discard the teether immediately. While we strive to provide the highest quality products, we cannot be held responsible for any injuries that may occur as a result of improper use or lack of supervision. Safety is our top priority, and we encourage all parents and caregivers to use our teether responsibly to ensure the safety of their precious little ones.
Domestic postage (Australia)
Orders under $95:
We happily subsidise shipping for our customers by offering a AU$8.30 flat rate on standard shipping Australia-wide.
If you need Express postage, the option is available for $4.00 Express Post upgrade.
Orders over $95:
We offer FREE standard shipping on domestic orders over AU$95. The discount is automatically applied at checkout.
$8.50 Express Post upgrade
"Rush My Order" option:
For or an extra $10: skip the queue and get first in the line. Your order will be prepped up as a priority and sent to you on the very next working day by Express.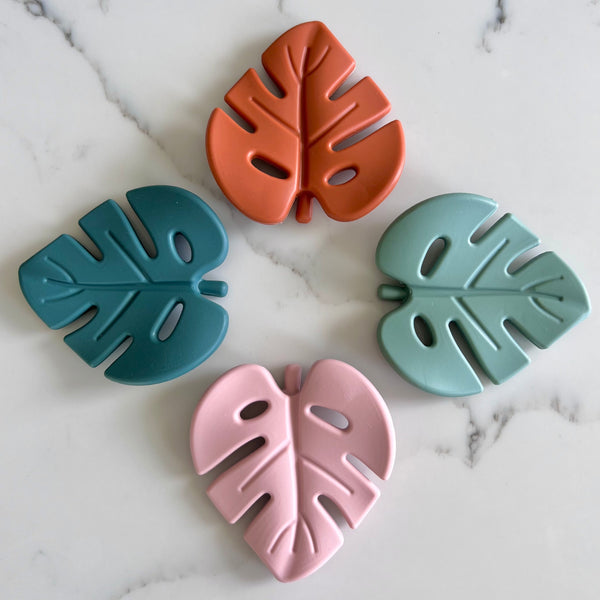 Silicone Leaf Baby Teethers - BPA free
$19.00