Skip to product information
Reusable Breast Pads (12 Pack) - Washable Organic Bamboo Nursing Pads (Fabric Pouch + Laundry Bag included)
$27.00
Join the eco-friendly breastfeeding movement! Countless Australian mums have already made the switch to sustainable products for their breastfeeding journey and never looked back

Save your money and forget disposable. It's time to make the switch to reusable breast pads and experience a whole new level of comfort, convenience, and cost savings. Here's why:
Comfort: Our reusable breast pads are made from soft, breathable materials that feel gentle against your skin. Say goodbye to scratchy, uncomfortable pads and hello to blissful comfort.
Extra absorbent and Leak Proof: Our pads are designed with high-absorbency layers to effectively capture leaks and keep you dry throughout the day and night. No more embarrassing wet spots or damp clothing!
Eco-Friendly: By choosing reusable breast pads, you're making a positive impact on the environment. Reduce waste and help protect our planet for future generations.
Cost Savings: Disposable breast pads can add up over time, draining your wallet. Switching to reusable pads is a smart investment that will save you money in the long run. You'll only need to purchase them once, and they'll last you through your entire breastfeeding journey. Plus, you can use them for other purposes, more about this HERE.
Stay in Place: Tired of constantly adjusting your breast pads? The round shape and generous size allow our reusable nursing pads to lay flat inside your bra and not show through clothing. Their big size also means that the pads can stay in place, nicely stuck in your bra, as opposed to smaller ones which will more likely move and become uncomfortable.. Diameter size: 12cm for maxi coverage.
Easy to Clean: Washing our reusable breast pads is a breeze. Simply pop them in the delicate washing bag to protect them and not lose a piece, and wash them on gentle cycle (30 degrees). It's a quick and hassle-free process.
FAQS
1. Why are the Eco Baby Planet nursing pads so absorbent?

Lots of time and efforts went into testing combinations of fabric and layers inside the pads as well as wash testing to get the best possible quality breast pads.

The ideal combination was these 4 layer nursing pads.
These pliable nursing pads are slim, soft and absorbent. There are two absorbent layers made of antibacterial bamboo. Bamboo was chosen because it's breathable, 3 times more absorbent than cotton and dries 3 times faster.
The pads also have an outer waterproof layer and an elegant floral patterned top layer which is organic cotton.
Pads are finished by professional overlock with super soft nylon threads to maximise comfort.

2. How often do you need to change your pads?

Everyone is different but we usually recommend that the pads should be changed regularly (as with disposables), to avoid leakages and to feel nice and fresh.  It's best to change your breast pads whenever they become wet or soaked. This helps prevent moisture from sitting against your skin and reduces the risk of irritation or infection.
3. How many pairs of reusable breast pads do I need?
You should allow for a few pairs per day with a few in the wash, reason why we're providing 6 pairs. Ideally you would need a total number of 12 or 18 pairs if you don't want to run your washing machine every day.
4. Can I use my reusable breast pads during the night?
Absolutely! The nursing pads can be worn day and night for leak protection. If you experience heavy nighttime leaking, a trick is to use 2 pads on each breast.

5. Can I use reusable breast pads before giving birth?
Yes, some mums experience leakage during pregnancy or before their milk fully comes in. The nursibg pads can be used to help absorb any colostrum or leakage during this time.
6. How do I clean my reusable breast pads?
Washing your reusable breast pads is easy. You can either hand wash them using mild soap and warm water or machine wash them in the laundry bag provided on a gentle cycle. Avoid using fabric softeners or bleach. Lay flat to dry, do not tumble dry. We also recommend to line dry in the sunshine. This has the added bonus of sanitising the fabric, removing potential stains and keeping it bright.
Don't settle for less when it comes to your breastfeeding journey. Make the switch to reusable breast pads and enjoy the benefits of comfort, leak protection, sustainability, cost savings, and style.
Embrace a more eco-friendly and economical approach without compromising on quality.
Experience the difference for yourself and join the growing community of mums who have chosen reusable breast pads.
Domestic postage (Australia)
Orders under $95:
We happily subsidise shipping for our customers by offering a AU$8.30 flat rate on standard shipping Australia-wide.
If you need Express postage, the option is available for $4.00 Express Post upgrade.
Orders over $95:
We offer FREE standard shipping on domestic orders over AU$95. The discount is automatically applied at checkout.
$8.50 Express Post upgrade
"Rush My Order" option:
For or an extra $10: skip the queue and get first in the line. Your order will be prepped up as a priority and sent to you on the very next working day by Express.
Great!
These are fantastic! I love them! Best ones I've brought and love that they came with a bag to wash them in.
Great gift
Brought for my daughter she was very happy with the gift
Great product!
These are the best breast pads I've found! Cute designs, excellent quality, absorbent and they sit comfortably in my bra. Thankyou!
Best breast pads
Love the breast pads, thank you for making them! They are thin but sits well and soaks up any leakages well. They don't seep through the back. Slippery bra surface so easily slides in and out when need a quick swap. I'm gonna get more!!
lovely breast pads, but great company to order through. we had a slight muddle up with our order and it was quickly rectified and resent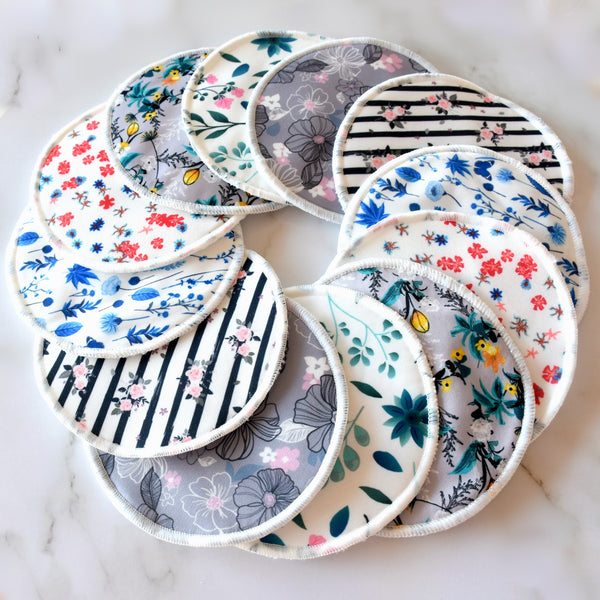 Reusable Breast Pads (12 Pack) - Washable Organic Bamboo Nursing Pads (Fabric Pouch + Laundry Bag included)
$27.00