Skip to product information
Eco-friendly Bamboo Dinner Set - Cute animals
$26.00
🌿 NON TOXIC AND ECO FRIENDLY - This kids dinnerware set is made of high quality organic bamboo fiber and protects your child from BPA and other harmful chemical materials. It's BPA free, biodegradable and environment conservative.
🍴 COMPLETE TABLEWARE SET - This kids dishware set contains 1 plate, 1 bowl, 1 cup, 1 spoon, 1 fork but also a removable cup holder and dust-proof cup cover designed for babies and toddlers.
👶🏻 KID-FRIENDLY - This kid's divided plate is available in 2 different cute designs that'll get your children excited! It's also another ideal kids' plate for fussy eaters who like their food to be separated.
💧 EASY TO CLEAN - this dinner set is dishwasher safe! Its non-stick surface is also easy to clean by simply dipping the set in water and scrubbing slightly.
👍 LIGHTWEIGHT & DURABLE - Our ecology dinner sets are light to transport, they are chip resistance and hard to break, which makes mealtime a little less stressful!
WHAT'S THE IDEA? GREEN AND SUSTAINABLE
Our mission with BAMBOO FIBRE DINNERWARE is simple: we just want to provide
green, sustainable tableware as much as we can. It will in turn bring major benefits
not only for the health of our little customers but also for our environment.
When using our ECO BABY PLANET BAMBOO FIBER DINNERWARE, you are ensured
that mealtime is safe and fun for your child. This bamboo dinner set was
specifically made with love for the progress of the little ones in mind. We
understand the need to help our kids become independent and thus we
put our hearts into making products that help achieve this.
Renewable & Sustainable Material-Bamboo Fibre:

Eco Baby Planet Dinner Sets are made of Bamboo Fibre, a sustainable
product that is renewable, compostable and doesn't create any pollution.
Eco Baby Planet 5-piece tableware set is the perfect gift for kids or families with children.
This product conforms to national health inspection standards, safety and health.
SPECIFICATION:
- Condition: 100% Brand New
- Material: Bamboo fibre
- Plate size: 20.5 * 26.5cm
- Bowl size: 11cm in diameter * 4cm in height
- Fork spoon: length 13.5cm
- Cup: 7.5cm in diameter * 6.5cm in height

Multiple use: Can be used for any healthy meals for kids: fruit, salad, snack, pastas, etc.
for their breakfast, lunch or dinner. Also great for parties, picnic and
everyday meals.
Lightweight & Easy to clean: Lightweight design and special material make our
tableware more suitable for kids and easy to clean. It is also Dishwasher safe.
CAUTION:

NOT SUITABLE FOR MICROWAVE USE
KEEP AWAY FROM FIRE AND FLAME
Domestic postage (Australia)
Orders under $95:
We happily subsidise shipping for our customers by offering a AU$8.30 flat rate on standard shipping Australia-wide.
If you need Express postage, the option is available for $4.00 Express Post upgrade.
Orders over $95:
We offer FREE standard shipping on domestic orders over AU$95. The discount is automatically applied at checkout.
$8.50 Express Post upgrade
"Rush My Order" option:
For or an extra $10: skip the queue and get first in the line. Your order will be prepped up as a priority and sent to you on the very next working day by Express.
Quality
My grand daughter uses this every time she visits. She loves it.
Quality
Well packaged and good quality.
Cute design and great value!
Love the cute animal design and perfect set for my toddler to enjoy meal time. She likes picking at different foods on a plate so the different sections on the plate in this set will be great. One of the best bamboo dinnerware sets I've seen for the price, design and added extras like the attachable handles for the cup. Wish there were loads of designs as I'd buy more. Plan to buy another for a gift. Thanks for the fast shipping!
Super cute bamboo dinnerware
Thank you for such a fantastic item Eco baby planet! The bamboo dinner set was delivered within a week. My toddler loved her bamboo dinnerware and ate all her dinner the very night we received the item. She loved the print with all the cute animals on it. Easy to wash and dishwasher friendly so perfect for easy clean ups. This would be great as a gift also and the quality definitely easily noticed. Will be purchasing for my next child most definitely.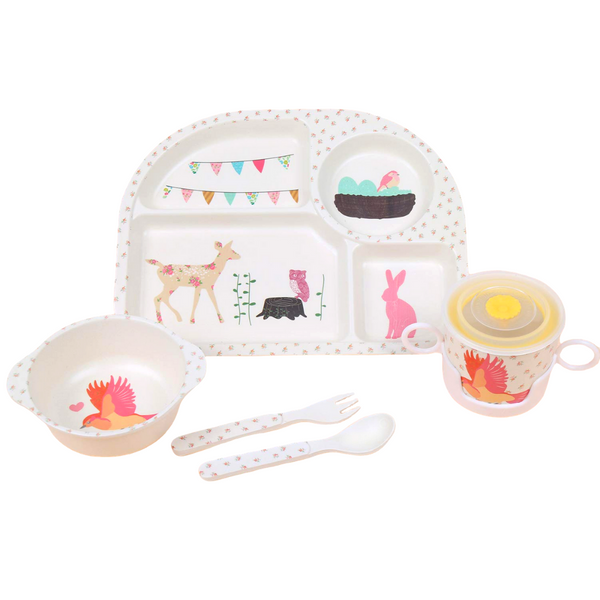 Eco-friendly Bamboo Dinner Set - Cute animals
$26.00