Skip to product information
Silver Nipple Shields for Breastfeeding Mums - 100% Pure Silver 999 Carat - Nickel Free - 1 Pair
Regular price $55.00 Sale price $45.00 Sold out
Elevate your breastfeeding journey with our Nipple Silver Shields! Expertly crafted from pure silver, they provide a fusion of natural healing properties and contemporary design, ensuring maximum comfort and protection for nursing mothers.
Benefits:
Natural Healing: Silver's natural antimicrobial and anti-inflammatory properties promote healing of sore or cracked nipples.
Comfortable Protection: Offers a protective barrier against chafing, ensuring a comfortable breastfeeding experience.
Chemical-Free: The silver shields provide a natural solution, perfect for mums seeking organic remedies. They work well together with our Nipple Balm or you can use your own breast milk as well.
Reusable & Eco-Friendly: Reduce environmental waste with our sustainable shields. One pair can be used throughout your entire breastfeeding journey!
Adaptable Design: Fits comfortably inside most bra types, ensuring discretion and ease of use.
Instructions for Use :
Cleanse & Dry: Before first use, clean the shields with mild soap and water, and dry them thoroughly.
Placement: Position the silver side against the nipple, ensuring a snug fit inside your bra.
Duration: Use as needed, especially after breastfeeding or when experiencing discomfort.
Limit Duration: For optimal health, it's essential to allow your nipples to breathe. Aim to wear the shields intermittently, ensuring you're not using them continuously for extended periods.
Care & Maintenance:


Regular Cleaning: After each use, cleanse with mild soap and water, then pat dry with a soft cloth.
Polish Occasionally: Over time, silver may naturally tarnish. To restore its luster, gently polish with a soft cloth.
Storage: Keep the shields in a cool, dry place when not in use. Consider using the provided pouch for added protection.
Safety: Keep out of reach of children and pets to prevent accidental ingestion or harm.

With our Nipple Silver Shields, nursing mums can enjoy the perfect blend of age-old wisdom and modern-day science. Embrace the future of breastfeeding with comfort, elegance, and ease!
Domestic postage (Australia)
Orders under $95:
We happily subsidise shipping for our customers by offering a AU$8.30 flat rate on standard shipping Australia-wide.
If you need Express postage, the option is available for $4.00 Express Post upgrade.
Orders over $95:
We offer FREE standard shipping on domestic orders over AU$95. The discount is automatically applied at checkout.
$8.50 Express Post upgrade
"Rush My Order" option:
For or an extra $10: skip the queue and get first in the line. Your order will be prepped up as a priority and sent to you on the very next working day by Express.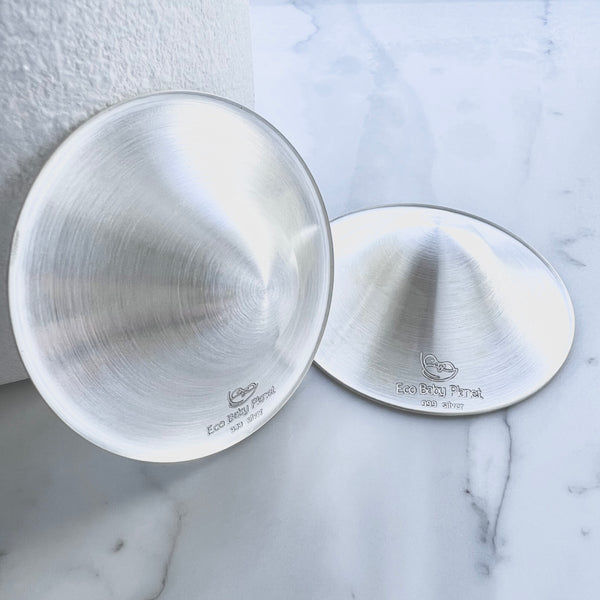 Silver Nipple Shields for Breastfeeding Mums - 100% Pure Silver 999 Carat - Nickel Free - 1 Pair
Regular price $55.00 Sale price $45.00